Welcome to K&D Bali Designs!

Thanks very much for stopping by. Our mission is to provide our customers with the best quality hand made arts and crafts from Bali, at a very reasonable price. For more information about our products, please click on this link, or select an item from the menu on the left. We hope you enjoy your visit.



February 10, 2002 - We added 9 more new, gorgeous, and unique hand bag designs made from Ato Grass, from Karangasem, in Eastern Bali. We also added an entire new section on what to do and see while in Bali, along with detailed maps for each of the 8 districts.



January 14, 2002 - Many new items have been added to our web site, including colorful kites, hand painted didgeridoos, new wall hangings, and masks from the neighboring island of Lombok. In addition, 9 new hand bag designs were also added. Also be sure not to miss our gorgeous and unique leather furniture items, as well as dried flowers.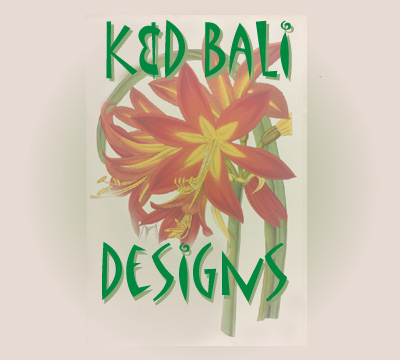 Copyright © 2001-2003, K&D Bali Designs. All rights reserved.